Our adoptable cats at Popoki + Tea were rescued as strays, from cat colonies, or from the risk of euthanasia by our nonprofit animal rescue partner, KAT Charities. All cats and kittens in our care have been fixed, microchipped, vaccinated, and treated for fleas, ticks, and worms.
If you're visiting to meet a specific kitten or cat for potential adoption, we recommend contacting us first to verify its adoption status/availability. You may call us at 808.425.4131, or email us at meow (at) popokiandtea.com.
Our Adoption Process
KAT Charities' adoption fee is $65 for all cats and kittens. If you're interested in adopting a cat or kitten after your visit, please ask us for an adoption application on your way out, or download and fill out KAT Charities' adoption application. You can either hand deliver your completed application at Popoki + Tea, or email your completed application to meow (at) popokiandtea.com.
If you would like to be pre-approved for adoption before your visit, download KAT Charities' adoption application above and email your completed form to us at meow (at) popokiandtea.com.
Whether you submit your application before or after your visit, please allow 24-72 hours after submission for KAT Charities to call you about the status of your application.
Once your adoption is approved, Popoki + Tea will call you to set up your adoption pickup time. Adopters must be ready to adopt on the same day your application is approved. Please understand that at any given time, we have approximately 150 cats in line for our cat lounge, and we can only intake a new cat when an adoption occurs. Mahalo for your understanding!
And now, meet our kitties:
Our Adoptable Cats and Kittens
Cairo
Female, approx 1 year old
Cairo is our tortie with a slinky walk! She was abandoned at a community cat colony maintained by KAT Charities. She's still getting used to her new surroundings, so you might not see her much when you visit. With time, Cairo will want all the pets you can give her!
Cupcake
Female, approx 1 year old
Cupcake is a sweet and loving girl with a perfect amount of cattitude and sass. Cupcake will play with adorable kitten energy, but will stop just about every other activity for the chance at being a part of a good petting session. She can be insistent on petting, and may gently grab your hand with her mouth to guide you to the sweet spot or to move you away from her tummy and sides. She means no ill-will and will be purring the entire time, and she may take a swipe at your feet as soon as it appears your attention is elsewhere. Because of her mouthiness, Cupcake would probably do best in a home without children under 10 years old. She's too proud to be picked up or being on laps, but will usually come to you on her own free will. Cupcake would also prefer to be the only cat in the house, if possible. She can coexist with other cats, but can get a bit bossy when she gets jealous especially over sharing human affection. Like any good cupcake, a little taste will get you hooked for more. (Photo: Kris Labang)
Eva
Female, approx 2 years old
Eva was rescued from the North Shore, and is the perfect mix of sugar and spice! She's adorable, playful, sweet, not at all graceful, and a snuggly purr-monster – but only on her terms. She has the face of an angel, paws of a Great Dane puppy, and a perpetual wink with suspected limited vision in her left eye. On top of all that greatness, Eva loves to sit with a corgi sploot! This goofball would do well in a home that treats her like the royalty she is. Eva enjoys human companionship, but again, on her own terms. Once you gain that extra special spot in her heart, she will happily be your best friend, reminding you just how annoying closed doors are to her. She's selective about who she allows fully into her heart, but once you are in, she's extremely devoted.
Lily
Female, approx 2 years old
Lily is our resilient tripod kitty who loves everyone! While KAT Charities volunteers were rescuing a dog at a beach on the Wai'anae Coast, Lily dragged herself into the humane trap that had a breakfast sandwich as bait for the doggo! She was very skinny and one of her back legs had a bad break. KAT Charities took her to their vet, where they found that the leg couldn't be saved, so KAT-C covered the cost to amputate. Lily is now fully recovered and has adapted well to life on three legs! She would do well in most homes, except large dogs make her nervous. (Photo: Kris Labang)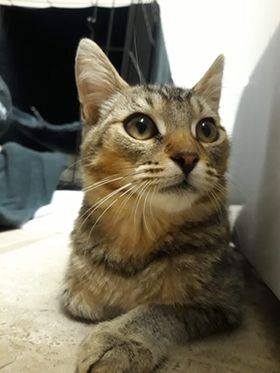 Meowth
Male, approx 6 months
Meowth is a sweetheart who thought he was a cat meant for the wild. Once he was under the care of a KAT Charities foster, he quickly decided that wet food, soft beds, human affection, and toys are more his style. He became a loving little baby with quite a bit to say. When his foster parents would leave the room, he was happy to remind them that he never got tired of their affection. Meowth is very comfortable being around other kitties.
Miss Bangles
Female, approx 10 years old
Miss Bangles doesn't exactly "Walk Like an Egyptian," but she struts her stuff all the same! She can be shy at first, but once she warms up to you, will rub up against you and give you the most affectionate head butts. Her previous guardian passed away suddenly, so Miss Bangles is in search of a new home to live out the rest of her years. She previously lived in a multi-cat home, so she would do well in a quiet home with other cats, with a proper, gradual introduction, and lots of human love to build up her confidence. (Photo: Kris Labang)
Romeo
Male, approx 1 year old
Romeo is a chatty loverboy with an upside-down heart on his nose! Being the extrovert he is, Romeo took no time at all to warm up to our cat lounge. Lately, he's been playing supervisor as we wash the cats' dishes and serve them their food. His favorite spots to hang out include our shelves by the window and on top of our food container — what can we say, he's a foodie!
Ross
Male, approx 5 months old
Ross is the perfect kitty for a quiet household. He loves laying in sunny spots and cuddling with his companions under a blanket. This quiet old-soul type prefers a peaceful environment and can startle at unexpected loud noises. He may even let out a little hiss when he gets really startled, but he is all talk. Ross would do best with a more mature family who can work with him to help build his confidence and assure him that he is in a safe space. Once he's comfortable, he's happy to chase feather toys, attack cat scratchers, and sprawl himself across any plush surface he can find. He'll also snuggle with you and follow you around once he's completely comfortable with you.